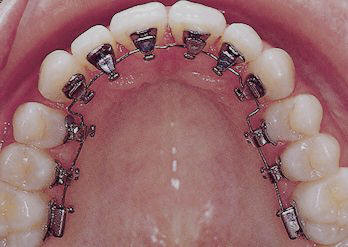 Dr. George's orthodontic office offers many reatments options, so we can find a way to straighten your teeth, without affecting your lifestyle. 
Lingual braces are placed behind the teeth, so nothing is seen from the front except the . They are also known as Concealed and/or Invisible braces. They are the best and only non-visible form of fixed orthodontic therapy.
Lingual braces are cemented to the back of the teeth where the wire also rests. This allows patients to enjoy an unobstructed smile during treatment.
These appliances are custom-made for each patient. Impressions are taken of your teeth and sent to our orthodontic lab for custom-made brackets which are directed by Dr. George's prescription and standards. Dr. George chooses to use the smaller and most comfortable brackets available for patients.
The techniques used for lingual braces require special instrumentation, equipment, and staff training.
For some patients, speaking with lingual braces can initially be difficult. To minimize speaking challenges, various combinations of orthodontic appliances can be employed. Some patients have chosen lingual braces for their upper teeth and Invisalign or traditional braces for their lower. Those who often speak in front of people prefer this combination because the traditional brackets on the lower outside do not affect speech. Dr. George likes offering options to his patients to ensure that they are comfortable during treatment and they can go about their normal routines with confidence.
Make an Appointment
Visit our San Diego Cosmetic Dentistry and Family Dentist office, conveniently located at University Town Center in La Jolla.  Call (858) 552-1223 to schedule your consultation with Dr. George today.