Holistic Bacterial Removal
We are proud to be one of the few dentist offices to provide ozone therapy in La Jolla and feel it is an important part of our holistic dentistry services.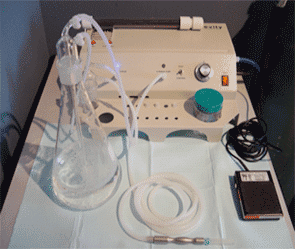 Ozone is a chemical compound made up of three atoms of oxygen and is the naturally occurring, element form of oxygen. Ozone was first used for medical purposes in 1870 by Dr. C. Lender and was popularized among dentists beginning in 1930.
Ozone works so perfectly in dentistry because it is a powerful oxidizer that kills bacteria, fungi, viruses, and parasites at a dramatically lower concentration than chlorine, with none of the toxic side effects. One molecule of ozone is equal to between 3,000 to 10,000 molecules of chlorine and it kills pathogenic organisms 3,500 times faster!
Ozone Therapy in La Jolla
We provide ozone therapy as a part of our holistic approach. Dr. George is one of the few dentists in San Diego who has an ozone generator, which allows him to harness this powerful element and provide the below services to patients that are seeking a healthier alternative to traditional dental care.
A recent Scripps Institute study showed how our antibodies actually produce ozone to kill invading organisms.
Therefore, Dr. Georgaklis is doing nature's work by applying ozone to fight dental infections.
Treatment of oral infections, periodontal problems, sore throats and ulcerations through the use of ozonated water and gas.
Prevention of tooth decay and maintenance of periodontal health by wearing custom fit trays that will be injected with ozone gas on a periodic basis.
Holistic root canal treatment
Prevention or root canal treatment by treating exposed nerves with ozone gas. The gas reduces inflammation and sterilizes the nerve tissue to allow healing.
Treatment of root canals with ozone gas. The gas penetrates and sterilizes inaccessible areas such as micro canals.
Our ozone therapy offers patients a non-invasive option for their dental care. Ozone therapy replaces many traditional treatments that would have involved the use of chemicals and toxins. Ozone therapy is very effective and is a big part of holistic dentistry.
Had 1/4 of my (#14) tooth broken 5 years after a filling job. Went and saw my regular dentist, took an x-ray and was told that my pulp was exposed and I needed to get a root canal. I then got a second opinion just to make sure and was told the same thing. I did some research and found out that I might still have a chance to avoid a root canal using Ozone Therapy. After searching online I found Dr. George and got an appointment just to see if there is another way besides doing a root canal. He requested a new x-ray and told me that there was still a chance to save my tooth. He cleaned the tooth decay, used ozone gas to disinfect that area, and then filled the tooth. I had no issues afterwards. I'm very happy that I made the decision to use Ozone Therapy. I highly recommend it.