Periodontal Treatment with Ozone in San Diego
Periodontal disease is mainly caused by an accumulation of plaque which is a sticky film of food and bacteria that forms around your teeth. Untreated periodontal disease can result in the loss of teeth. The definition of periodontal disease is a "chronic bacterial infection that affects the gum and bone supporting the teeth." Also, it is a fact that the "infection" can be viral, fungal and parasitic. S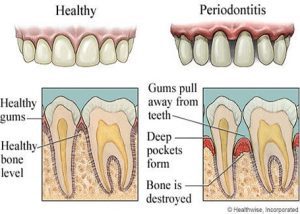 ince ozone therapy effectively kills bacteria, fungi, viruses and parasites, then it can be effective in controlling periodontal disease. You can receive periodontal treatment with ozone in San Diego from Dr. Georgaklis. Dr. George initially has his hygienist do one quadrant of root planning, scaling and curettage per week with anesthetic. All pockets are irrigated with ozanated water which reduces the bacteria in the area.
After four weeks all the quadrants are treated with ozone gas using custom made trays. The trays allow the tissues to absorb the gas, which is very effective and enhances the immunological response to heal.
If you are experiencing symptoms of periodontal disease, do not hesitate to call holistic dentist Dr. Georgaklis' office and schedule an appointment now.
NOTE: Gum disease may produce few obvious signs, even in the late stages of the disease and often progresses painlessly. 

Periodontal disease symptoms may include
Persistent bad breath
Bright red, reddened or swollen gums
Gums that are tender to the touch
Bleeding gums
Space between your gums and teeth (receding gums) that may cause your teeth to appear longer than normal
Loose teeth
Make an Appointment
Visit our San Diego Cosmetic Dentistry and Family Dentist office, conveniently located at University Town Center in La Jolla. Call (858) 552-1223 to schedule your consultation with Dr. George today. Stay connected, like us on Facebook!
A breakthrough treatment for gum recession Do you suffer from gum recession or loss of gum tissue as a result of gingivitis, periodontitis, the natural aging process, or abrasive teeth brushing habits? You could benefit immensely from the Chao Pinhole® Surgical Technique. This technique is a breakthrough treatment for gum recession that delivers faster recovery than tissue grafting and excellent, natural-looking, long-lasting results. You should take your gum recession seriously [...]