Dental Anxiety Treatment in San Diego
Dr. George and our staff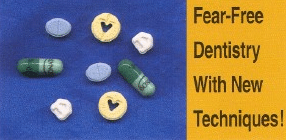 understand that going the dentist can be a nerve-wracking experience if you suffer from dental fear, phobia, a sensitive gag reflex, or if you don't respond well to local anesthesia. Dental visits do not have to be stressful or painful. You can experience the best dental anxiety treatment in San Diego at Dr. Georgaklis' office.
Our goal is to create a relaxing environment for all of our patients to help ease the stress of visiting the dentist. With over 30 years of experience, we have seen many patients with dental phobias and have heard many negative stories about dentistry.
Dr. George is confident in his ability to help calm and relax patients and has developed his own unique techniques to deliver dental services in a gentle manner. He takes the time to talk through any fears and anxiety so patients can trust him and feel secure in his care. He also likes to inform patients about what to expect during their treatment.
Communication is vital to a comfortable and trusting dental relationship. Dr. George and his staff members are trained to be attentive to our patient's personal needs and concerns.
To aid in a more pleasurable experience we have music and movies to help distract you from your dental treatment. We offer a wide variety of DVD movies to watch during your procedure or you can listen to your favorite music on a CD headphone set. We welcome you to bring in your own appropriate DVD movie or CD if you have something you would prefer to see or hear.
For our patients that are particularly fearful of dental treatment, a prescribed medication can be taken one hour before the appointment to help relax you. You will need someone to drive you to the appointment, but you will not be incoherent during the procedure. Nitrous oxide or laughing gas is available to help you relax and you can drive yourself to and from the appointment. For those who want to be more sedated, intravenous sedation (sleep dentistry) is also available.
During your first appointment Dr. George will spend time with you to discuss your concerns and determine an approach for treatment that is right for you. Everyone has different needs and we understand how important individual attention is. Our San Diego / La Jolla practice is a place that is relaxing and inviting. Dr. George looks forward to meeting new patients and helping them overcome their dental fears.
Make an Appointment
Visit our San Diego Cosmetic Dentistry and Family Dentist office, conveniently located at University Town Center in La Jolla. Call (858) 552-1223 to schedule your consultation with Dr. George today. Stay connected, like us on Facebook!