Excellent Dental Care for Kids
Good dental habits and healthy teeth start at a very young age. New parents are busy and not always thinking about their baby's teeth, but it is far more important than most people realize. Dr. George and our staff are here to help educate new parents and their children on the importance of dental health. You do not have to take your child to a pediatric dentist in San Diego. On the contrary, Dr. George has extensive experience with children's dentistry, and our team loves giving parents and kids great dental visits.
Our practice is conveniently located in the University Town Center area making Dr. George a centrally located family dentist. He recommends to his patients that they make an informative and educational appointment for themselves and their child by the time the child is one year of age.
Although one year of age may seem too young, we agree with the American Dental Association that it is important to start prevention early and establish a comfortable relationship that will last a lifetime. We will make sure that your child's first visit is relaxing and simple. Dr. George will get to know one another, and your little one will learn that going to the dentist is fun.
Tooth Decay
Preventing decay of the primary (baby) teeth is very important. These teeth need to be kept in place until they are lost naturally. These first teeth have many critical functions that some parents are not aware of:
They help maintain good nutrition by allowing your child to chew properly.
The teeth are involved in speech development.
Primary teeth help the permanent teeth by saving space for them to come in.
We Recommend
Regular cleanings and checkups
Permanent sealants to prevent decay on biting surfaces
Dental care education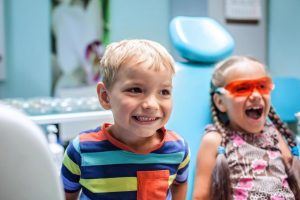 Our practice also offers orthodontic treatment to young children and teenagers. Advances in orthodontic techniques have led to starting orthodontic treatment at a much younger age. Some children benefit greatly from having an expansion appliance that may be recommended to correct the child's bite and expand their arch. Placing brackets on a young child can also be beneficial to correct crowding and help guide new teeth into a better position. Orthodontic treatment on younger children can be referred to as phase one. This new approach to orthodontic treatment helps to reduce the amount of time your child will be in braces.
Phase two is usually during the early teenage years when all of their adult teeth have erupted.
A healthy, pain-free smile will help your child feel confident about his or her self-image. With regular dental visits and good home care, your child can have healthy teeth and superior dental habits all their life without having to see a pediatric dentist in San Diego.
 Make an Appointment
Visit our San Diego Cosmetic Dentistry and Family Dentist office, conveniently located at University Town Center in La Jolla.  Call (858) 552-1223 to schedule your consultation with Dr. George today. Stay connected, like us on Facebook!