Many people have suffered through grueling and long experiences with braces to straighten their teeth, but that all changes with Straight Teeth in Six Months created by Dr. George's orthodontics in La Jolla.
No more extended and pain-staking braces that take a year or more to correct your teeth alignment.
Dr. Georgaklis has been providing this amazing Straight Teeth in Six Months orthodontic procedure for well over two decades, has perfected it and it was even featured in Dentistry Today. This trademarked procedure has resulted in thousands of smile transformations and happy patients and will continue well into the future.
Straight Teeth in 6 Months can be described in three simple words: "Fast, Safe and Affordable"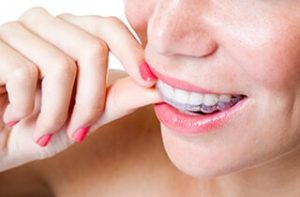 A fast paced orthodontic plan like this is perfect for everyone whether you are in need of rapid results before a significant period of your life that will be impacted by your smile or you just wish to have the smile you always wanted. Here are a few example of why patients prefer an accelerated orthodontic plan:
Upcoming Wedding
Hosting a Special Event
Hosting a TV Show
Acting Audition
Singing Audition
Or they simply want it to be done faster
There have been a number of cases where Dr. George and his staff were absolutely pressed for time because of short notice for a patient's deadline and they were still able to make it happen in a healthy and safe way that produced spectacular results for the time frame.
The best part about Straight Teeth in 6 Months (besides the fact that it only takes 6 months to get amazing results) is that you have multiple options for the type of braces used.
Clear Brackets
Metal Brackets
The Straight Teeth in 6 Months Orthodontic Treatment Process
You can get a free orthodontic consultation from Dr. George and he will conduct an evaluation to create a personalized treatment plan to make this happen for you. There are typically a few options he can provide in order to achieve your goal and Dr. George will present them to you along with more information including before and after pictures of real life cases.
From here, your personalized treatment plan is created and presented to you along with cost, insurance and a timeline. There are many instances where insurance will cover your orthodontic treatment, but if not there is an option for an interest-free payment plan to ensure you can afford the beautiful smile you want and deserve.
Benefits of Orthodontic Treatment
A healthier mouth
A mouth that is easier to clean and take care of
No more pain from misaligned teeth
Speech improvement
Better chewing function
Improved facial profile and shape
Increased self-esteem and confidence
A beautiful smile that you are proud of
Contact Dr. Georgaklis for a free orthodontic consultation today and take the first step towards the smile you have always wanted.
Straight Teeth in 6 Months: "Fast, Safe and Affordable"