BOTOX®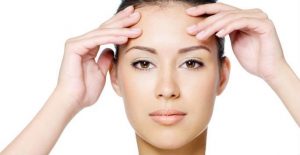 BOTOX® is a tried and true method to help reduce the appearance of lines and wrinkles on the face. This method has been used for over 30 years and has helped so many men and women look more youthful and exude more confidence. It is a powerful and effective tool that can truly help change your life!
As we age, our skin loses collagen, which means that the skin gets thinner and has less elasticity. Because of this, wrinkles are more prone to form, especially on the face. This is where BOTOX® comes in! BOTOX® can help reduce the lines on your face, whether it be those large forehead wrinkles or the small pesky wrinkles on the bridge of your nose. There are many different options when it comes to where you'd like the BOTOX® to be injected, as well as the amount of BOTOX® used to achieve your desired result. Because your BOTOX® treatment will be customized for you and your specific needs, BOTOX® really is a viable option for most everyone.
Here are the different areas that are commonly treated with BOTOX®:
Horizontal forehead lines
Frown lines
Fine wrinkles on bridge of nose
Eyebrow shaping 'brow lift'
Crows feet
The results typically take between 3-7 days to appear, and depending on your desired result, you can come back for another treatment in 3 to 6 months.
Fillers
Collagen is a naturally occurring component of your skin which thins out as you age, resulting in wrinkles. Injectable fillers are placed in the skin directly where the collagen has weakened, and as a result, reduces the appearance of wrinkles. Additionally, fillers can help with scars on the skin by injecting the filler into the depression so that it raises and becomes even with the surrounding skin.
Fillers are available for temporary, semi-permanent, and permanent results, depending on your specific needs.
Dr. George offers both BOTOX® and Fillers at the San Diego cosmetic dentistry and family dentistry office, conveniently located at University Town Center in La Jolla. Call (858)552-1223 to schedule your consultation with Dr. George today.