The Steps to Getting Implants
The dental implant system for missing teeth that we prefer to use is made by Nobel Biocare. This company has proven themselves as a leader in the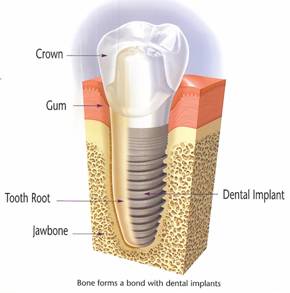 dental industry for over 40 years.
Before dental implants can be placed, a separate consultation is necessary.  At your dental implant consultation we'll analyze your records and discuss:
Your medical history (including any previous dental implants you may have had).
Panorex or a cat scan of your jaw.
We'll study models to determine the occlusion and restorations anticipated for your implants.
Dental implants can only be successful with proper treatment planning and a sterile technique. Dr. George can place dental implants with local anesthesia so you don't experience any discomfort.  If you have any heightened anxiety, we can orally oral sedate you, or even provide I.V. sedation. (See our page on oral sedation).
The surgical technique of placing a dental implant involves just a small incision and then the implant is put in place.  Often times, we can do this procedure in only 15 minutes.
As a temporary solution, there are various methods to replace missing teeth while the implant heals.  You will never be uncomfortable when speaking, or even smiling because of missing teeth.  We can make immediate restorations to fill in those gaps while you're waiting for your dental implants that look completely natural.
Make an Appointment | Dental Implant Dentist San Diego
Visit our San Diego cosmetic dentistry and family dentistry office, conveniently located at University Town Center in La Jolla.  Call (858) 552-1223 to schedule your consultation with Dr. George today. Stay connected, like us on Facebook!