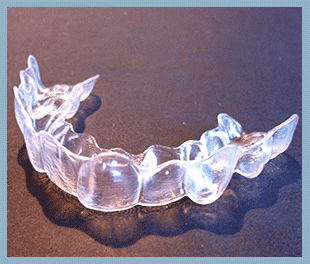 Do you want straighter teeth but do not want to go through the hassle, time commitment, and visual burden of braces? Have you ever wondered if it's really worth it for you to take the plunge? If so, you are not alone. This is a very common concern, especially​ for adults. There are so many things going on in our day-to-day lives that the linearity of our teeth is not always on the top of our lists! Additionally, showing up to the office after twenty years of working there with a mouth full of metal all of the sudden, can be a little intimidating. Lucky for you, if you live in the San Diego area, you are just minutes away from Dr. George Georgaklis, award winning cosmetic dentist of over 25 years. He has numerous orthodontic options to help you achieve your smile goals in a way suited just for you.
Let's take a look at the options!
Invisible Lingual Braces aka Braces Behind the Teeth
This one is just like traditional braces, except that the braces are on the backs of your teeth, so you and people you talk to will not be able to see them! These are the only non-visible form of fixed orthodontic therapy. These braces are of course custom made to fit your teeth perfectly. Also, you can chose to have the concealed braces on just the top teeth and use a different form of orthodontics on the bottom, or vice versa, depending on your specific needs.
Invisalign
This is a popular choice for adults, especially for those that travel often. Although Invisalign can take a little bit longer than traditional braces, you will not have to make frequent visits for tightening of the brackets. Dr. George has been a Premier Provider of Invisalign, representing a group of only 5% of dentists in America who have superior experience and have had great success with Invisalign. If you choose Invisalign, you will absolutely get the straight teeth that you desire, without having a mouth full of metal.
Straight Teeth in 6 Months
This one is an amazing option and loved by adults because it takes only 6 months to completely straighten your teeth! You have a choice of metal brackets or clear brackets for a less noticeable look, but most importantly, you will be done in only 6 months! ​Dr. Georgaklis​ trademarked "straight teeth in 6 months,"​ 20 years ago and it has been massively successful. It has even been published nationally in "Dentistry Today." There are thousands of happy clients who've used this method, and you can be one of them, too!
Contact Dr. Georgaklis for a free orthodontic consultation today and take the first step towards the smile you have always wanted.